Wednesday, August 28, 2013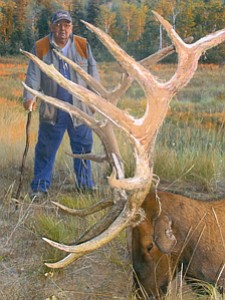 OROVILLE — Charles Eder lived a hunting experience he will not soon forget.
"Junior" bagged a 7x7 elk on a trip earlier this month in Idaho.
His hunting partner, Jay Lynch, landed a 6x6.
"Just call me Junior," said Eder during a stop in Omak, where several drivers screeched to a halt to check out the giant racks in the back of his pickup.
The gigantic elk were bagged on the second day of a four-day hunt, Aug. 11-15 at the 5,000-acre Broadmouth Canyon Ranch near Firth, Idaho.
Former Denver Bronco and NFL All-Pro Rulon Jones owns the high fence ranch, one of two used for hunting trips.
Eder, 77, said he was drawn to the ranch not only for the chance at a big elk, but also because it caters to those with handicaps.
"I can't get around much," said Eder, who has hunted all around the world. "This is my third time there. It was the first time for Jay."
Lynch, 53, was a carpenter in town before going to work at the Eder ranch.
"I've killed one other elk in my life, and it was just a spike," Lynch said. "It was a blast. It's probably the biggest I will ever kill. I would like to thank Junior for the hunting experience. He's a real good friend and boss."
Each hunter returned with a bunch of meat.
"The meat is in my freezer," Lynch said. "I am eating it and giving some of it to my friends. It's excellent meat."
Although slowed, Eder refuses to sit still when it comes to hunting.
He hopped a train Tuesday, Aug. 27, for Louisiana to hunt alligators.
"This is my first time I have ever gone hunting on the train," he said. "It's hard to sit in them damn planes for so long. This way I can move around. I will have my own berth."
Eder hopes the hunt is more successful than for crocodile. He missed getting one in Africa, Australia and New Zealand.
Although none of his many trophies is his favorite, the biggest include a red stag out of New Zealand and a Cape buffalo out of African.
"I have a bunch of trophies," he said. "I have everything. They're all favorites.
"I always wanted to do it," he said of hunting. "I always hunted a lot of deer. The last 10 years, after I got the money from selling part of the ranch, I said I am going to go hunting.
"I'm just fortunate to have the dough to do it."
As for what his wife, Sally, of 52 years thinks of the hunting trips, Eder said, "Oh, she doesn't care. She went with me to New Zealand once.
"We have one tongue between us. That way we don't get in a fight. She's a good gal."
More like this story
Latest stories
Latest video: