Wednesday, August 28, 2013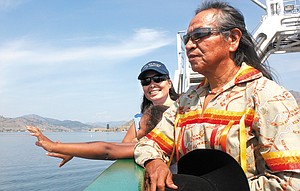 KELLER FERRY LANDING – Gong, gong, crack.
The third time was a charm for Jeanne Jerred of Keller as she christened the new ferry M/V Sanpoil with a non-alcoholic "champagne" Aug. 14, marking the vessel's maiden voyage across the Columbia River.
When two side swings weren't enough to break the thick glass, Jerred, a former Colville Business Council member and Sanpoil tribal elder, brought the heavy bottle down with a strong over-head swing.
"I hereby christen the M/V Sanpoil," Jerred said after the stubborn bottle shattered. The ferry was named for Jerred's people, the indigenous residents of the area the vessel serves.
"I wish for calm winds and fair waters," Jerred said.
The Sanpoil replaces the Martha S., a ferry taken out of service last month after more than 65 years providing service on state Highway 21 between Wilbur and Keller.
For area resident Ed Novotny, 74, the christening and maiden voyage of the new ferry were bittersweet.
Novotny's father, Melvin Novotny, was the original pilot for the Martha S.
"My dad piloted it up here from Grand Coulee," he said, noting he was on that vessel's maiden voyage 65 years ago. "Today was real important to me."
Looking around the new ferry, Novotny said: "It's a lot bigger, but I also feel the Martha S. was nice," he said. "But she's (Sanpoil) a lot nicer."
At the south shore landing terminal, nearly 300 people turned out for the christening and maiden voyage on the 1.5-mile crossing.
Across the river at the north terminal, drivers started lining up three hours before the reopening of the route.
Dozens of dignitaries turned out, including most of the Colville Business Council, Sanpoil tribal elders, state officials, legislators and commissioners from several counties.
"Wow, I can't believe we're here today," 7th Legislative District Rep. Shelly Short, an Addy Republican, said during the dedication ceremony. "This has been a long time coming."
Short helped organize a "show-me" tour on the Martha S. in 2009 to convince other state lawmakers a new ferry was necessary.
"This wasn't a want to; it was a need to," she said of replacement. "It's amazing that we are here today."
Short credited former 12th Legislative District Rep. Mike Armstrong of Wenatchee for making the funding a reality.
She also credited the Colville tribe for its commitment and funding assistance on the project.
"There were so many incredible people who helped get us to this point," she said.
Colville Tribal Chairman Michael Finley agreed, calling the realization of the new ferry and upgraded landings a "true collaboration."
Finley called the ferry crossing the "only gateway to this part of the reservation."
"It wasn't a question if we'd do it; it was how quickly could we get it done," he said. "This is an important (transportation) piece, not only for our economy, but our communities."
But the project was not without its difficulties.
"It's been stressful, but it's also been rewarding," Finley said.
It took several governmental agencies – the Colville tribe, state lawmakers, the federal Bureau of Reclamation, Oregon and Washington transportation departments, U.S. Army Corps of Engineers and others – to make the project a reality.
Putting together a funding package for the $9.5 million vessel and $3 million in landing upgrades in difficult economic times was only one of the hurdles that had to be overcome.
According to the Rick McKenna of Foss Maritime, the contractor that built the boat, actual construction wasn't an easy task.
"The project was one of the most challenging I've ever been involved with," he said.
Foss built the hull at its Rainier, Ore., shipyard and trucked the pieces to Crescent Bay Park in Grand Coulee. There, the team put the vessel together without a proper dry dock, construction or docking facilities.
It took an "overreaching sense of teamwork," he said, adding that employees stayed in Grand Coulee working 10- to 12- hours days, six to seven days a week since March to assemble the 116-foot vessel.
"She'll be plying these waters for a long time to come," he said.
Officials said the vessel is expected to carry approximately 60,000 vehicles each year, making more than 30 river crossings daily between 6 a.m. and midnight, even during winter months.
The ferry has a 20 passenger vehicle capacity, or in the alternative, two tractor-trailers and nine passenger vehicles.
The Martha S. could only carry 12 passenger vehicles.
It has two Detroit MTU Series 450-horsepower engines and two 50-inch propellers, making it capable of reaching speeds up to 12.5 knots. The cruising speed is 9 knots.
Made of marine-grade aluminum, the vessel is 45 feet wide and has an overhead wheel house.
The Sanpoil will be piloted by Capts. Marvin Clutter, John Miller and Cleo Reed.
The senior captain is Dave Koffman.
"She has 50 hours on her," Reed said Wednesday of the Sanpoil as maiden voyage passengers boarded.
Reed and the others will pilot the vessel 365 days a year for travelers and locals needing to cross the Columbia River for travel, school, shopping and recreation.
"I have crossed the river times many times on the Martha S.," Jerred said. "It is my hope she (Sanpoil) will continue fine ferry service."
Sanpoil tribal elder Glen James blessed the vessel prior to the first public sailing.
"The spirits are watching," James said.
James sang two traditional Sanpoil tribal songs in his blessing, one was a song of faith and the other of friendship.
The new ferry is a model of cooperation, he said, pointing out two governments can do something good for the people and not take 100 years.
According to James the new vessel is a "good thing" for "not just our people, but every people."
"This will be packing our school children for many, many years to come," he said, calling the new Sanpoil very "modern" that "looks like 'Star Trek' or something."
Others participating in the dedication ceremony included the 560th U.S. Air Force Band Brass Quintet, Colville Business Councilman Ben E. Marchand Jr., state Secretary of Transportation Lynn Peterson, ferry landing contractor Max Kuney and Sheila Stamp (representing Rep. Cathy McMorris Rodgers).
State Department of Transportation officials Mike Frucci, Ketih Metcalf and George Capacci also spoke.
More like this story
Latest stories
Latest video: