Wednesday, August 14, 2013
The Conconully lakes and even nearby Sugarloaf Lake continue to boot out sizeable fish.
Charlie Wines of Kelso along with John and Brenna Decker of Arlington caught a bunch of rainbows at the upper lake and Sugarloaf last week, Gene Bussell of Liar's Resort said.
The anglers caught rainbows from a pound-and-a-half to three pounds.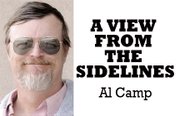 "Charlie was using night crawlers and a special solution he mixes up to help catch these keepers," Bussell said. "Fishing has been absolutely fantastic this whole fishing season."
More trout more than 15 inches long have been landed this year than any other year since the Bussells took over the resort five years ago.
"Most fishermen are still fishing from a boat on the east side of the lower Conconully reservoir or by the dam at about 45 feet," Bussell said.
You can get a $3 discount on admission to the Goodguys 12th Great Northwest Nationals car show in Spokane on Aug. 16-18 at Spokane County Fair and Expo Center, 404 N. Havana St.
If you bring two cans of food to the ticket gates Friday, Aug. 16, you can get the discount to enter the show and view custom and classic vehicles.
Event hours are 8 a.m. to 5 p.m. Friday and Saturday and 8 a.m. to 3 p.m. Sunday.
General admission is $15, and kids 7-12 is $6. Kids 6 and under are free.
Spectator parking is free.
As it turns out, Jim Townsend of Okanogan will not be going with the Columbia Basin River Dogs 18U baseball team to the Babe Ruth World Series on Aug. 15-22 in Andalusia, Ala.
The River Dogs recently won the regional title at the Pacific Northwest Senior Babe Ruth tournament in Kalamath Falls, Ore.
Townsend played with the River Dogs earlier in the year but was not on the tournament roster.
The area will be represented by Aaron Schramm of Chelan, who will be going with the River Dogs.
The Senior Babe Ruth World Series for those age 16 to 18 will be competed in Ephrata in 2014.
More like this story
Latest stories
Latest video: