Wednesday, August 7, 2013
It feels like the U.S. Forest Service is trying to do everything in its power to limit the use of public lands.
In recent years, the Forest Service has moved from an open unless otherwise closed position to closed unless otherwise open.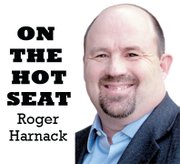 That wasn't the intent of laws that allowed federal and state governments to own land.
Most recently, the U.S. Forest Service announced that it does not necessarily have to honor state House Bill 1632, which was signed into law earlier this year by Gov. Jay Inslee, a Democrat.
The new law generally allows counties and other municipalities to open roads with speed limits of less than 35 mph to licensed all-terrain vehicles.
But rather than say it will honor what the residents of Washington state want, the national Forest Service has said it will not "automatically" allow licensed all-terrain vehicles on national forest roads.
Is somebody not home at the national forests' offices?
ATVs were designed for forest-type roads. They were designed specifically for operation in dirt and gravel.
Besides, by and large, it is the residents of Washington state who use national forest roads in our state. We use the roads to access hiking, fishing, jobs, communities and for other reasons.
We are the ones who pay the bills for the forests, and we are the ones who pay for the inconveniences created by bureaucrats pushing agendas that are contrary to public opinion.
I'm not saying we should allow ATV-users to run willy-nilly in the meadows. But using the excuse some riders will abuse the law isn't a reason to disregard state law and the will of the people who "own" the forests and their roads.
U.S. Forest Service officials say they have the authority to "allow" ATVs on forest roads after a road engineer certifies them for mixed, motorized use.
That sounds like a waste of a lot of taxpayer dollars that could be put to better use.
Forest Service officials say they will release an environmental study this fall on forest roads and that the public will have a chance to review and comment on it.
But with Forest Service officials already pushing their own agenda over the will of the people, I wonder if it will make any difference. Still, residents need to remind the Forest Service that the roads are ours — many even predate federal ownership.
If the Forest Service wants to have the confidence of the people who pay for it, officials need to get back to an open unless otherwise closed policy, beginning with roads.
Roger Harnack is the editor and publisher of The Chronicle. He can be reached at 509-826-1110 or via e-mail at rharnack@omakchronicle.com.
More like this story
Latest stories
Latest video: